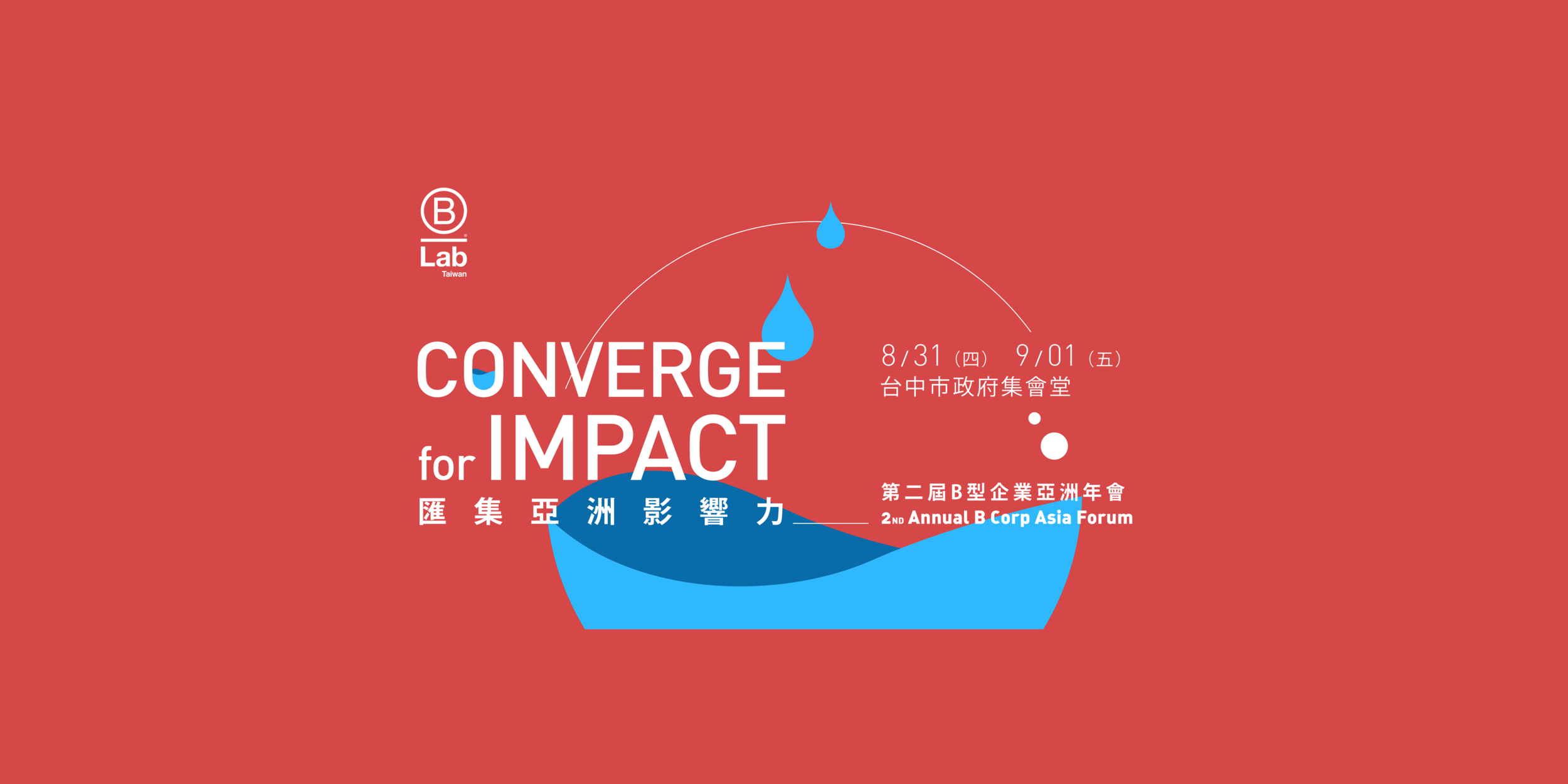 Why Attend?
More and more companies have discovered that creating positive social and environmental impact is a requirement for success in the 21st century. The reasons are intrinsic to business: Faced with pollution, poverty, and ecological crisis, consumers are demanding change by shifting how they consume.
As the world's most populous region, Asia shoulders the greatest share of these challenges. But we also face the greatest opportunity. It's possible to integrate a higher purpose—a commitment to doing good—into our corporate strategies and bottom lines. At the 2017 B Corp Asia Forum, discover how leaders and movement builders from every corner of the Asia–Pacific region are turning purpose into growth.
Founders of world-changing companies. Professionals driving movements for good. Researchers studying the growth of this dynamic new sector. Students preparing for impactful careers. Governments supporting these efforts. These are the inspiring people who will gather in Taichung, Taiwan, this August for B Corp Asia Forum 2017.
Join us.
Businesses
Addressing social and environmental issues is now a prerequisite for business success. Learn to build impact into your corporate strategy. Meet your future partners and ecosystems to bring about the changes your customers demand.
Governments
Discover how to support businesses that make a difference for the economy—and for citizens. Engage with business leaders who are innovating for cities, reinventing agriculture, reshaping the energy supply, and becoming the Best for the World®.
Movement Drivers
The social and environmental challenges we face today are too complex for any one person to address. Connect with likeminded builders and shapers across Asia to forge partnerships. Stay on top of new ideas and cutting-edge trends to bring B Corp's ideas to life.
Media
With 63 companies in 17 countries in Asia, B Corps are an established and fast-growing sector. Scoop new trends in social business, including emerging legal structures and IPO prospects, so you can be the voice that delivers the "business for good" message to the world.
Academics
Benefit Corporations are a burgeoning sector of the Asian economy. Unpack the most recent developments in the field. Discover new research opportunities. Meet existing B Corps. Connect with other researchers. Find unmatched opportunities for purposeful industry careers.
NGOs
Be a beacon. Share your stories of impact and identify opportunities for collaboration with like-minded organizations. Learn how industry organizations are dedicating resources to help B Corporations flourish.
*Please note that the B Corp Market, showcasing products from B Corporations across Asia, will be open daily from 9am–6pm.
SPEAKERS
We're excited to learn from experts from dozens of industries, governments, and social-sector organizations in every corner of Asia.
DAY ONE — THURSDAY, AUGUST 31, 2017
【TOPIC 1】The New Impact Economy: B Corp Global Market Trends and Trade Partnerships
【TOPIC 2】Breakthrough: How Impact Business Leaders Are Creating the New Asian Economy
【TOPIC 3】B Corp IPOs: CSR 2.0 and ESG Ratings
【TOPIC 4】Sustainability: Circular Economy and Clean Energy
DAY 2 — FRIDAY, SEPTEMBER 1, 2017
【TOPIC 5】Changing Consumption Habits through "Mission Branding"
【TOPIC 6】How Central and Local Governments Can Support the B Movement
1ST B ACADEMY FORUM — FRIDAY, SEPTEMBER 1, 2017
B Academy Forum Kickoff Address
B Academy Forum【Topic 1】B Corp in Class: Teaching and Learning
B Academy Forum【Topic 2】Academic Research for B Corps
Last Year's Highlights
Check out photos of all of the 2016 action, plus videos of keynotes and panel discussions.